Improvilirium! is a unique piano method designed to prepare beginning students for a lifetime of joyful improvisation at the piano. Based on the pentatonic scale and it's close cousin, the blues scale, Improvilirium! helps students develop an "inner soundscape" from which to create great melodies as they learn the habits of hand that make improvising possible. Beginning with their very first exercises, students learn to listen creatively as they apply what they hear to sight-reading, interpretation, and improvisation. In addition, Improvilirium!'s "hands on" approach to music theory and ear training helps students understand patterns and structures in all kinds of music. When students learn to make music from the sound up, not only are they able to improvise creatively, but the music of great composers like Beethoven, Bach, Mozart come alive on the page and in students' imaginations.
Audio Gallery
The three pieces below, Toad, Crumbs in My Pocket, and Hat of the Month Club are taken from Volumes One, Two, and Three of Improvilirium! Enjoy!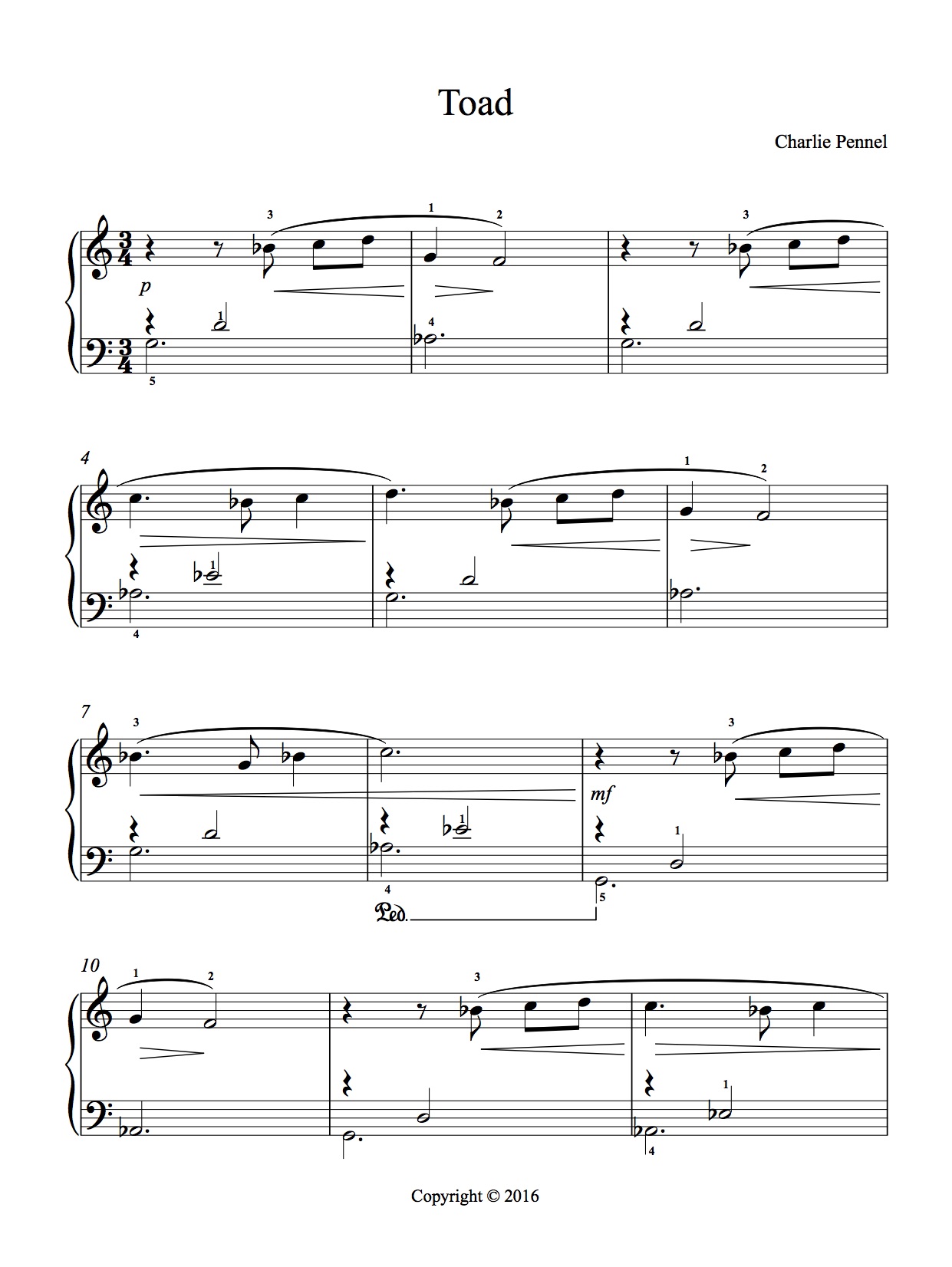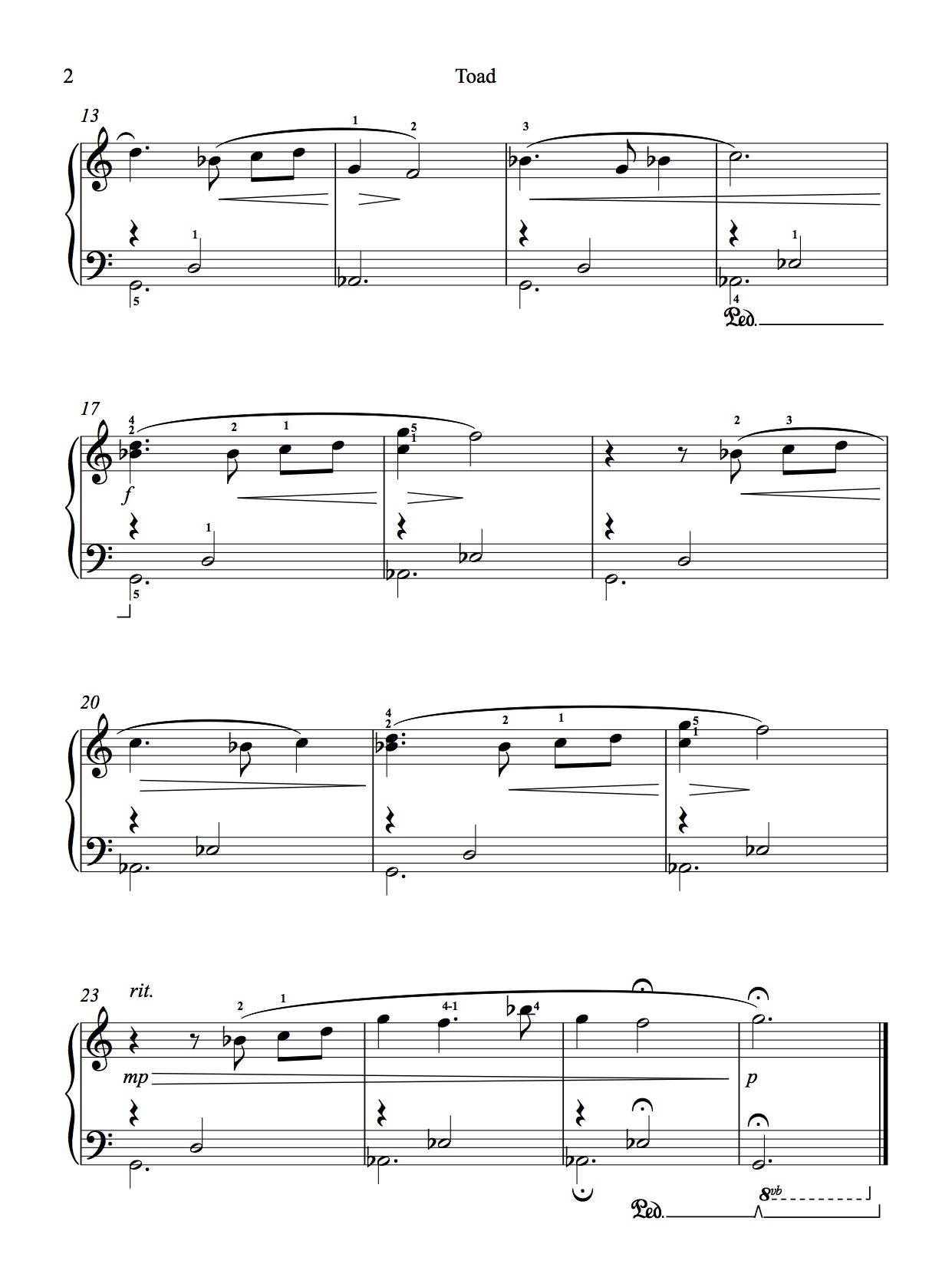 Patterns in Motion
Featuring a simple, two-part, left hand pattern, beneath a moody F minor pentatonic melody, Toad explores the relationship between the call and response pattern of the right hand and the insistent half-step motion of the left. As with all material presented in Volumes 1-3, Toad's pentatonic melody reinforces and expands each student's emerging inner soundscape. The material presented in Volume 1 prepares students to easily master the improvisation based songs, etudes, and exercises introduced in Volume 2.
Thinking About One Thing
Volume 2 of Improvilirium!, introduces each student to improvisation and culminates with the song. Crumbs in My Pocket. "Crumbs" is a blues influenced piece that explores the relationship between the song's descending chord progression and it's syncopated G Major Blues melody. Upon mastering page one, the student is invited to improvise with the right hand, using notes from the G Major Blues scale, while continuing, with the left hand to play he chord progression learned on page one. It is this kind of step-by-step musical patterning that lies at the heart of Imprivilirium! As students develop their musical imaginations and become confident of the patterns under their fingers, they are able to focus on the most important thing - making great music!
88 Keys. Infinite Possibilities.
Hat of the Month Club, which appears at the end of Volume 3, uses left hand blocked and broken chords, as well as two-hand harmonic structures to support it's happy-go-lucky funk/pop melody. Sixteenth notes add rhythmic variety in both the left and right hands and, in measure fifteen, the melody surprises by featuring a note from outside the pentatonic scale. In the solo section, students are encouraged to move between the G Major and C Major Blues scales as they improvise. The advancing complexity of Hat of the Month Club's chord progression challenges students to choose thoughtfully from among the notes available in the scales. As they become comfortable with the material, student's are encouraged to add chord tones (notes from the chord being played with the left hand) to their solos adding further richness and variety to their improvised melodies.
A Note From Charlie:
Improvilirium! The Beginning Pianist's Comprehensive Guide to the Joyful Art of Improvisation is a work in progress. I'm busy revising and editing and hope to have Volumes 1-5 ready for publication in 2018. In the meantime, please...
subscribe to the Improvilirium! Newsletter
check out my blog
drop me a line! I welcome your comments.
Thanks!
Charlie
Click the button below or give Charlie a call at (617) 365-9232.